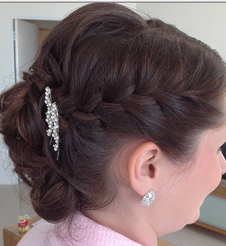 Glamorous Makeup Artistry also provides beautiful hair styling for your wedding day or special occasion.
Working alongside a very talented and professional hair stylist who is fully trained and qualified in the field of hairdressing. Together we provide the perfect hair and makeup for your wedding day.
Bridal Hair Trial
As with the makeup, we will meet with you to discuss your wedding hair ideas and create the perfect look for your day. We like to arrange the trial for your hair to be held on the same day as your makeup trial, as this gives you the opportunity to see both of these elements come together for your complete look. The hair trial will be held at the same location as the makeup trial saving you travelling and organising two different appointments.
We recommend you bring your veil along to the trial and or any hair accessories that you will be using. Photographs are taken for our reference so we can recreate it on your wedding day.
On the wedding day
Your Hair and Makeup Artist will arrive together at your chosen location. We will have worked out the required amount of time needed with your wedding party to ensure you are ready at the requested time.
Please ensure you wear loose fitting clothing so you do not spoil your hair when it comes time for dressing. All hair should be washed the day before the wedding.