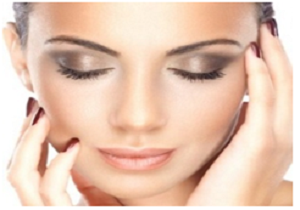 Many people request a Smokey Eye look for their Wedding or Special occasion. A Smokey eye, is dramatic makeup focusing on the eye that involves the blending of a lighter base eye shadow with a darker eye shadow. A Smokey eye can be achieved using a range of colours such as your traditional dark grey/black, silver, gold, or using browns, plums, and even navy.
Tools you will need: Eye Primer, Loose powder, one base eye shadow, one dark eye shadow, eye shadow brush, Angled eye shadow brush, blending brush, eye liner of your choice e.g.eye pencil or liquid, cotton tip, eye lash curler, mascara and optional false eye lashes.
Tip 1. My top advice for the perfect Smokey eye is blending! Make sure the colours are well blended and it is important to pair a light base colour with a rich dark colour.
Tip 2. Groom your eyebrows: Hold your makeup brush from the corner of your nose to the outer corner of your eye it should meet at the end of your eye brow. If not then extend your eye brow with a pencil. This is also a helpful guide for eye shadow placement. Do not take your eye shadow beyond this area. Fill in any patches with a pencil and comb through the hairs so they sit nicely. If your eyebrows are long you can have a professional trim them for you, or you can purchase an eye brow gel to help hold them in place.
Tip 3. Invest in some makeup brushes
Tip 4. Invest in good quality high pigmented eye shadows. You will use less product and the colour will last and not fade away.
Tip 5. If you are drawing the attention to your eye then it's best to keep your lips 'nude' (very natural).
Here are the steps to create a Smokey eye at home:
1. Apply eye primer over your whole eye lid, leave to dry.
2. With a clean brush dip into your pot of loose powder and dab this powder under your eye area. This will look a little funny but the loose powder will catch any eye shadow colour that may fall whilst you are working and you will not damage your foundation. Or apply your eye makeup before you your foundation.
3. Using your eye shadow brush, apply your lighter base colour over your eye lid, from the inner corner to the outer corner and into the crease/eye socket.
4. Using an angled eye shadow brush apply your darkest eye shadow colour from the outer corner of the eye in a v shape. Running a little along the top of your eye lashes and taking the colour up into the crease/socket of your eye directly under your brow bone.
5. Using a blending brush sweep over your crease/socket area back and forth a few times, and along your lash line, this will soften and help to blend the darker shade with the lighter one. Make sure they blend perfectly. You shouldn't be able to see any visible lines between the two colours.
6. Apply your eye liner as close to your lash line as possible. Make the line a little thicker in the outer corner. Also apply your eye liner along the lower lashes using a pencil, either half way along or all the way to the inner corner (which ever is your preference).
7. Use a cotton tip or smudger, smudge over your eye liner especially along the lower lash line as this will soften yet help give the Smokey look.
8. You can also apply a little of your darker eye shadow using a small eye shadow brush or even your cotton tip dipped into your eye shadow. Sweep from the outer corner of your eye along your lower eye liner fading it out as it reaches your inner corner.
9. As an optional extra, you may wish to use your lighter colour or highlight colour and carefully run it from your lower inner corner of your eye out about 1/4 way along your lower lash line until it fades into the darker eyeliner, for extra highlighting.
10. Curl lashes and apply lots of mascara
11. Groom your eye brows and draw/pencil in sparse patches.
12. Using a clean eye shadow brush or a fan shaped brush, dust the loose powder away from under the eye
13. Apply false lashes if desired, this does help make the eye look more dramatic
14. Enjoy your sexy Smokey eyes!